We are Upright Construction from Evansville, IN.
Roofing Contractor | Complete Commercial & Residential Services.
A family-owned, fully licensed General Contractor, Upright Construction is a leading provider of residential roofing services in the Evansville and surrounding Tri-State area.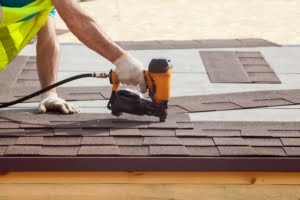 When it comes to getting a job done right, our attention to detail and craftsmanship is what sets us apart at Upright. We treat our customers like family and their home like our own. Starting with the initial contact, our focus is on YOU, the customer. We strive to provide legendary customer service to our clients by listening to "their" needs, providing affordable roofing solutions that work and exceeding their expectations at every step of the process.
With decades of experience in the residential roofing and construction businesses, we are prepared to handle your project, no matter the size or scope. From roofing repairs, to residential roof replacement or shingle roofing installation on a new home, we have the expertise to complete your project in an efficient and timely matter with the utmost attention to detail. We proudly offer a variety of roofing solutions, brands and products to cater to all of our potential customers and ensure that no matter what type of roofing needs you have, we will be there for you from start to finish. In addition, we offer the peace of mind that your new roof installation comes with a manufacturer's full warranty on all materials, as well as a warranty for our workmanship.
Suspect your home may have experienced roofing damage from a storm (missing shingles, granules in gutters, hail damage)?  Looking to purchase or sell a home? Noticing interior leaks or staining? 
It may be time to schedule an FREE roof inspection with Upright Construction. Our comprehensive roofing inspection gives full insight into your roof's current condition. In the event that damages are discovered, we will offer a full-range of potential solutions to best fit your goals and budget. We work with ALL major insurance carriers and offer a variety of payment options.
Call 812-629-3775 today to talk with our specialist and schedule your Estimate.
Estimate Request Form
Ask Our Specialists A Question or Request an Estimate.